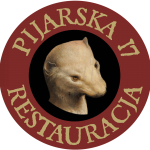 Welcome to Pijarska 17 Restaurant & Bistro where we serve traditional polish food. All dishes are prepared onsite from local products. Moreover we recommend selection of wines from polish, Italian and hungarian boutique producers. Our aim is to highlight lesser known producers of outstanding quality. From the vineyards to the glass we would like to pick out wines that speak of their origin, are true and intriguing.
Our restaurant is located in this remarkable place where the history of Poland, Krakow and the illustrious Princes Czartoryski intertwine. We are part of a complex of buildings situated close to St. Florian's Gate, the Barbican and the Royal Route which leads to the Wawel Castle. Exhibited nearby is the priceless museum collection of the Princes Czartoryski Foundation.
The ancient Czartoryski family, which founded the collection, is related to the Polish King Władysław Jagiełło, the progenitor of the Jagiellonian dynasty which ruled Poland, Lithuania, Bohemia and Hungary from the 14th to the 16th century, as well as the royal house of the Bourbons and many other European aristocratic families. Over a span of two centuries, the Czartoryski gathered a collection of works of art of Polish and world heritage, manuscripts, old prints and national memorabilia. By far the most precious object of this collection is the 'Lady with an Ermine' by Leonardo da Vinci.
We wish you a pleasant stay at "Pijarska 17 Restaurant